---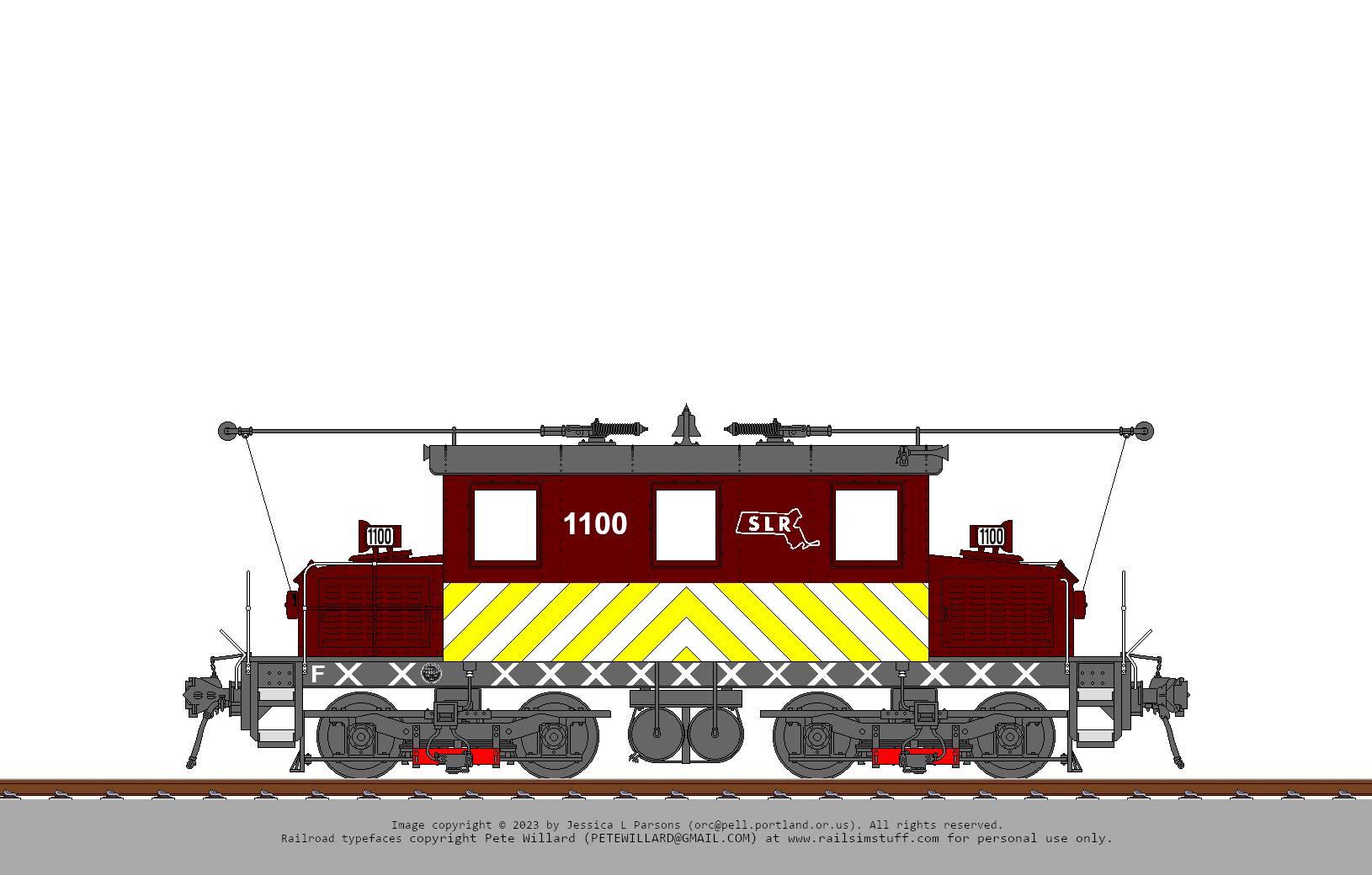 The South Loren Railway is a terminal railroad that operates switching trackage in Boston (lines running south from the vicinity of South Station) and an (exx Bay Colony) branch from Needham SW to Woonsocket, RI.
It was formed in 1891 as a joint venture between the Boston and Maine, the New York, New Haven and Hartford, and the Parsons Vale and Termite. It was electrified at 600VDC in 1906, the PV&T bought out the other owners in 1950, and reenergized the overhead to 3000VDC in 1958.
It operated as a 100% electrified 3000VDC line for about 40 years, but then Amtrak extended the NE Corridor electrification from New Haven to Boston, cutting off the Quincy branch in the process. As a result, that line was de-electified and a class DL16 diesel was brought in to service the (few) remaining customers.
The P&W had been negotiating with Amtrak & the MBTA for overhead rights on the NE Corridor between Attleboro and Boston, so the SLR started planning to reenergize their overhead at 25kvac so they could reconnect the Quincy branch and make it possible for P&W traffic to get off the NE Corridor and over to SLR/B&ACSX's Harvard Yard.
In 2019, the "reconnect the Quincy branch" part of this plan went by the wayside because the last online shippers either moved further out into the suburbs or stopped shipping by rail. But that hadn't stopped the rest of the plan from continuing; the MBTA wanted to remove the complicated power-delivery interlocking at South Station for the one platform that could power the the K3 motors used on Amtrak's Alouette. The SLR had already reelectrified their Old Colony branch from Needham Junction to Woonsocket, leaving only the Boston-Needham & Needham-Waltham sections of the line (the old line to from Boston to Mattapan had gone out of service several years earlier, leaving the line to Needham as the SLR's only trackage leading into Boston proper) as 3000VDC.
At about the same time as traffic on the Quincy branch vanished Iowa Pacific Holdings failed, the SLR picked the Massachusetts Coastal Railroad out of receivership, renamed it to the Old Colony Railway, and (in 2020) electrified their mainline from Framingham to the SE Mass resource reclaim facility in Fremont.
In 2022, the PV&T switched the Newton Corner to South Station segment of their Boston main to 25kvac, prompting the SLR to reenergize their Boston-Needham branch at 25kvac to match, and in 2023 the lines to Fall River & New Bedford were also electrified to try and encourage the MBTA to try something other than diesel traction.
All-time SLR Roster
| No. | Type | Builder | Built | Disposition |
| --- | --- | --- | --- | --- |
| 1 | class B shay | Lima | 1895 | retired 1950 |
| 2-3 | class B shay | Lima | 1895 | retired 1909 |
| 10-11 | class B climax | Climax | 1899 | retired 1937 |
| 101 | box motor | Brill | 1899 | retired 1948 |
| 100 | box motor | Brill | 1899 | To Seashore Trolley Museum 1958 |
| 102 | box motor | Brill | 1899 | retired 1948 |
| 103-109 | box motor | Brill | 1904 | Retired 1932 |
| 1000 | B-B boxcab | ALCO-GE | 1915 | to PV&T #309, rebuilt @ 3000VDC |
| 1001-1005 | B-B boxcab | ALCO-GE | 1915 | retired 1958 |
| 1100-1103 | B-B steeplecab | B-W | 1922 | retired 1958 |
| 320-327 | E10B | GE | 1956 | in service Dec 31, 1957 |